This Southern Potato Salad recipe makes a classic side perfect for casual suppers and summer cookouts! A family potato salad recipe that's great to make ahead and is a crowd favorite!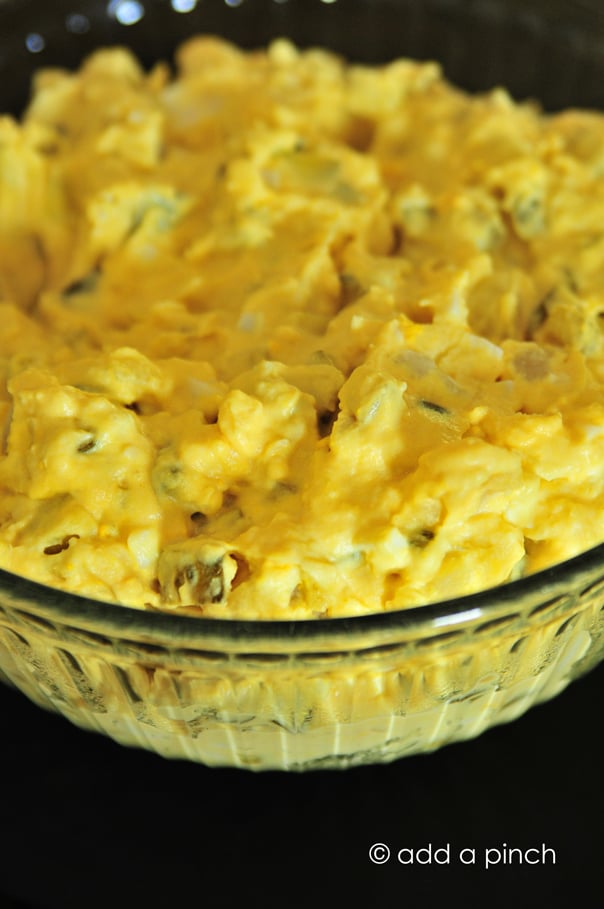 When I was a girl I loved being the taste tester when Mama made her potato salad. What a lucky job it was because her Southern Potato Salad is the best! She was asked to make it for every cookout or family reunion because everyone loved it. And my family requested it for so many suppers and family gatherings too. So I got to test it a lot.
This potato salad recipe is a simple, classic side dish that's so easy to make and pairs so well with everything from grilled hamburgers and chicken to a a southern Sunday meal with fried chicken and pinto beans. What a special dish!
Southern Potato Salad Recipe
This potato salad recipe has been in my family for so many years. My great grandmother made it by this recipe and passed it down through the generations. Mama taught my sister and me how to make it with stories of how she got to be the taste tester with her grandmother and her mother.
Best Potatoes for Southern Potato Salad
I am sure that you have seen many types of this favorite salad. Some have firm potatoes and other ingredients that I don't have in my recipe.
But for my recipe, you need to use starchy potatoes that get a little bit soft when you cook them. I prefer Russet or Yukon Gold potatoes, but I most often use Russets. A waxy potato won't do for this southern favorite, so get one that will get somewhat soft.
How to Make Southern Potato Salad
To make this potato salad, you will need these ingredients.
Potatoes (Russets preferably)
Eggs
Onion
Dill Pickles
Yellow Mustard
Mayonnaise (not the sweet dressing type)
Salt
Start by scrubbing and peeling 3 pounds of potatoes. Cube them, add to cold water and boil until tender enough to pierce with a fork, but not until they are mushy. Drain well once they are done.
At the same time, hard boil 6 eggs and then peel them once they're done. Chop the eggs in preparation for the salad.
While the potatoes are boiling, dice your onion and dill pickles. (While my recipe calls for onion, there is a member of my family who can't have onions, so I always make a bowl for her without onion. She uses extra pickles instead and it's delicious too!)
Combine the drained potatoes, chopped eggs, diced onion, diced pickles and salt with the mayonnaise and mustard until creamy. Add more mustard, mayo and even pickles to taste.
Make sure your tasting spoons are lined up and at the ready. You will want to have them for your own taste tests!
Once you've completed your potato salad, you can either serve right away or refrigerate to serve later.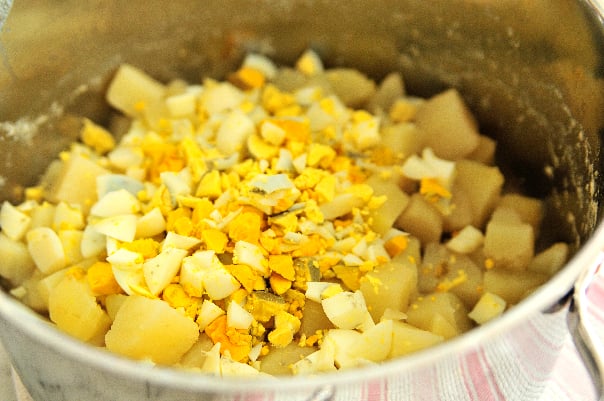 Make Ahead Favorite
My family's Southern Potato Salad recipe is one that is delicious made the day of serving, but is a great make-ahead dish as well. Just keep it tightly covered and refrigerated until ready to serve. It will keep in the refrigerator for up to 3 days.
Perfect for Get Togethers and Suppers

You'll find this dish served at most family get-togethers in my family – from holidays like Easter alongside my Cola-Glazed Ham to reunions to Sunday suppers! It's a great potluck dish anytime, too. Potato salad is delicious with chicken, beef, and pork and is a dish that everyone in my family loves!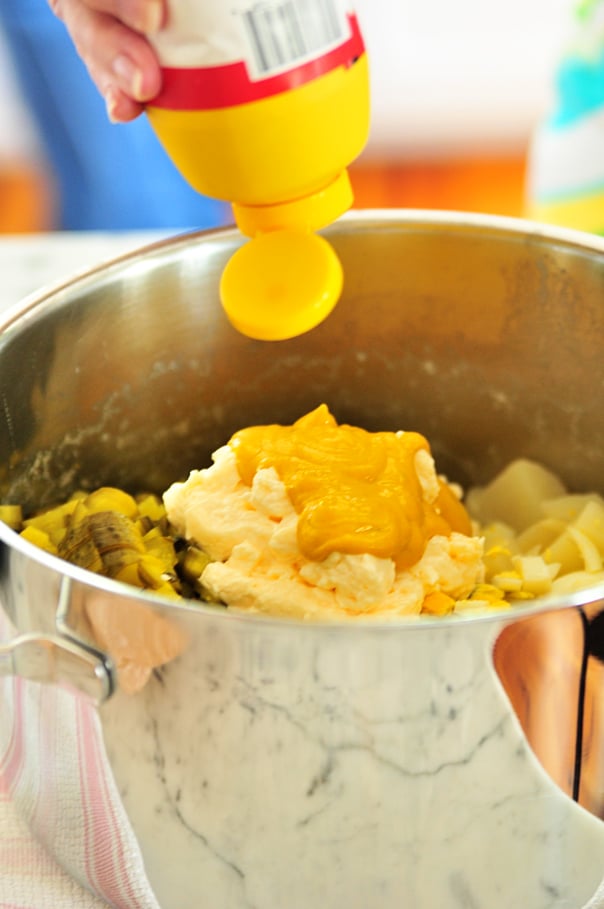 You know what? I still line up my spoons up ready to taste when the potato salad making is in progress. It's just a part of our family recipe I guess.
More Delicious Side Dishes and Salads
Here are a few more scrumptious sides for summer cookouts, potlucks and family suppers to try! Many are make ahead too!
Coleslaw
Cucumber Tomato Salad
Southern Macaroni Salad
Easy Tortellini Pasta Salad
Here's my family's Potato Salad recipe. It's a special favorite!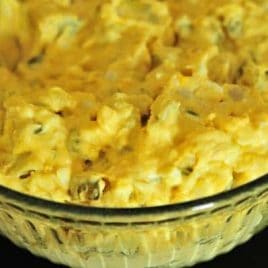 Southern Potato Salad Recipe
Southern Potato Salad – Potato salad is a classic recipe perfect for every possible summer celebration! Made with potatoes, pickles, onions, and eggs, this potato salad is an all-time favorite!
Print Recipe
3

pounds

boiled potatoes

peeled and cubed

6

boiled eggs

chopped

1

medium

onion

diced

4

medium

dill pickles

diced

1

cup

mayonnaise

1/2

cup

yellow mustard

1/4

teaspoon

salt
Make-Ahead:
Store potato salad in an airtight container in the refrigerator for up to 3 days. 
Serving: 1cup | Calories: 242kcal | Carbohydrates: 15g | Protein: 6g | Fat: 17g | Saturated Fat: 3g | Cholesterol: 101mg | Sodium: 330mg | Potassium: 531mg | Fiber: 3g | Sugar: 1g | Vitamin A: 150IU | Vitamin C: 13.8mg | Calcium: 56mg | Iron: 4.2mg
Enjoy!
Robyn xo