Southern Macaroni Salad makes a delicious addition to picnics, potlucks, and any get-together! An easy make-ahead staple, this macaroni salad is a definite go-to recipe for your summer parties!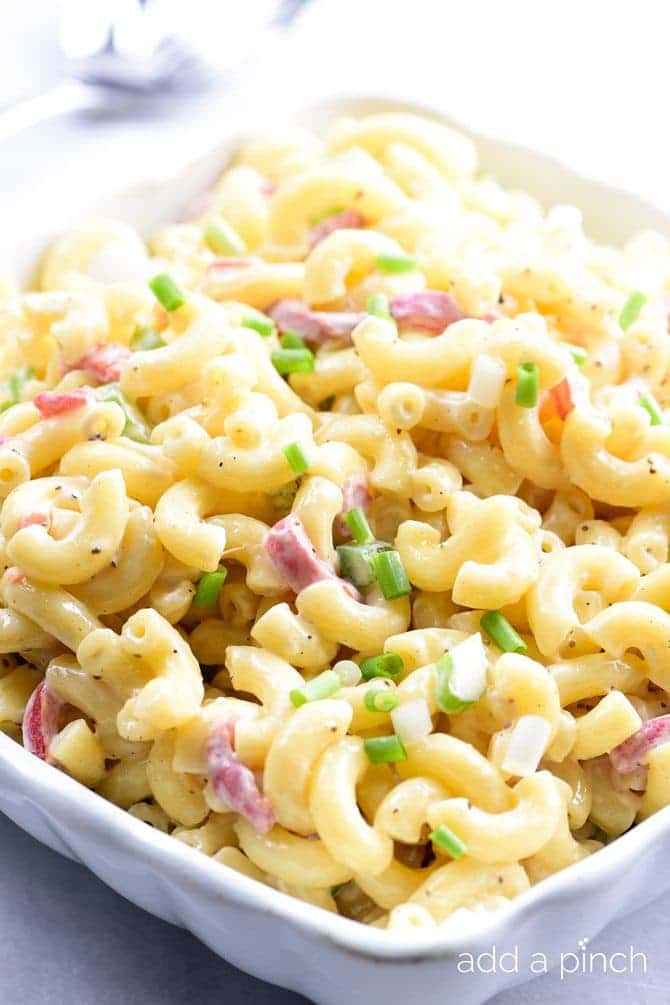 I love this easy macaroni salad! It is so simple to toss together for a quick and easy side dish any time of the year and is absolutely perfect for making ahead to serve, cover and keep in the refrigerator for cookouts, picnics, reunions, or any other gathering throughout the summer months! Cool and delicious, it always seems to go quickly!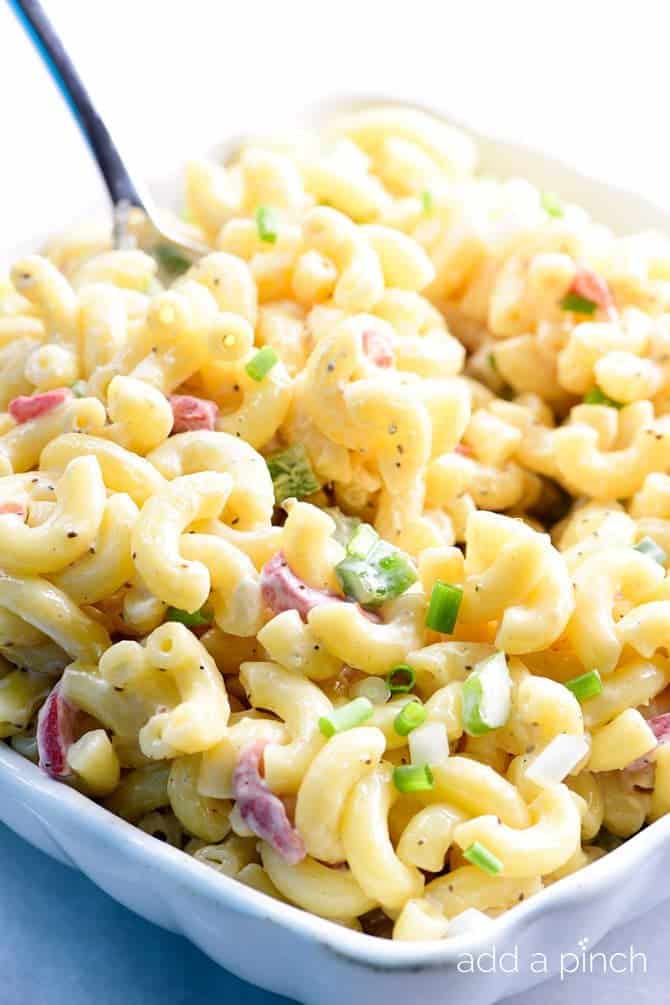 Southern Macaroni Salad Recipe
My macaroni salad recipe includes a few ingredients that I particularly love in macaroni salad, but you can absolutely customize the ingredients based on your preference. For instance, I love jalapenos and pimentos – so of course, I've included them in my salad. I also love the flavor of celery seed. I use it in my favorite coleslaw recipe and just can't get enough of it! So, I added a bit of it to my this salad as well.
Southern Macaroni Salad Ingredients
Like I mentioned, you can really personalize your salad and make it to suit your tastes. Here's how I make it often.
Elbow noodles
Celery
Jalapeños
Pimentos
Green onions
Macaroni Salad Dressing
For this dressing, you want to think light, fresh and flavorful! Here's what you'll need:
Mayonnaise
Apple cider vinegar
Lemon juice
Salt and pepper
Celery seed – optional
To Lighten Up this Salad
Substitute greek yogurt for the mayonnaise in the dressing
Additional Mix-In Ideas
Dill pickles – diced pickles are a wonderful addition. I use these in place of jalapeños from time to time.
Black olives – drained and included whole or slices
Green olives – drained and included whole or slices
Grape tomatoes – halved
Bacon – cooked and diced
Ham – diced
Eggs – boiled and then diced
Resources:
How to Cook Bacon in the Oven
How to Boil Eggs
How to Make Macaroni Salad
Cook the pasta. Cook the pasta according to the package instructions.
Rinse. Pour the cooked pasta into a colander and rinse well with cold water. Drain well and allow the pasta to continue to drain as you prepare the other ingredients.
Make the macaroni salad dressing. In a small mixing bowl, stir together the mayonnaise, apple cider vinegar, lemon juice, salt, pepper, and celery salt if you are using it.
Combine the salad. Add the cooled pasta and your salad ingredients to a large bowl. Pour the dressing over the salad and stir well until combined.
Can You Make Macaroni Salad Ahead?
Yes! Macaroni salad is even better after it has had the opportunity to rest in the refrigerator, I think. The cold pasta absorbs more of the dressing and becomes even more flavorful in my opinion.
You may want to stir in a bit more mayonnaise right before serving if the pasta absorbed a great deal of the dressing.
If using bacon, you may want to stir in crisp bacon right before serving.
How Long Does Macaroni Salad Last in the Refrigerator?
This salad keeps well in the refrigerator for up to two days. Simply store in an airtight container or in a large serving bowl covered tightly with plastic wrap.
If using bacon, you may want to stir in crisp bacon right before serving.
More Pasta Salad Recipes
Granna's Pasta Salad
BLT Pasta Salad
Easy Tortellini Pasta Salad
Here's my Macaroni Salad Recipe. Make it soon!
Enjoy!
Robyn xo

From the Add a Pinch recipe archives. Originally published in 2014.