This Southern Banana Pudding is an heirloom family recipe and classic Southern dessert. Airy meringue atop creamy pudding is a delicious favorite and makes the best banana pudding!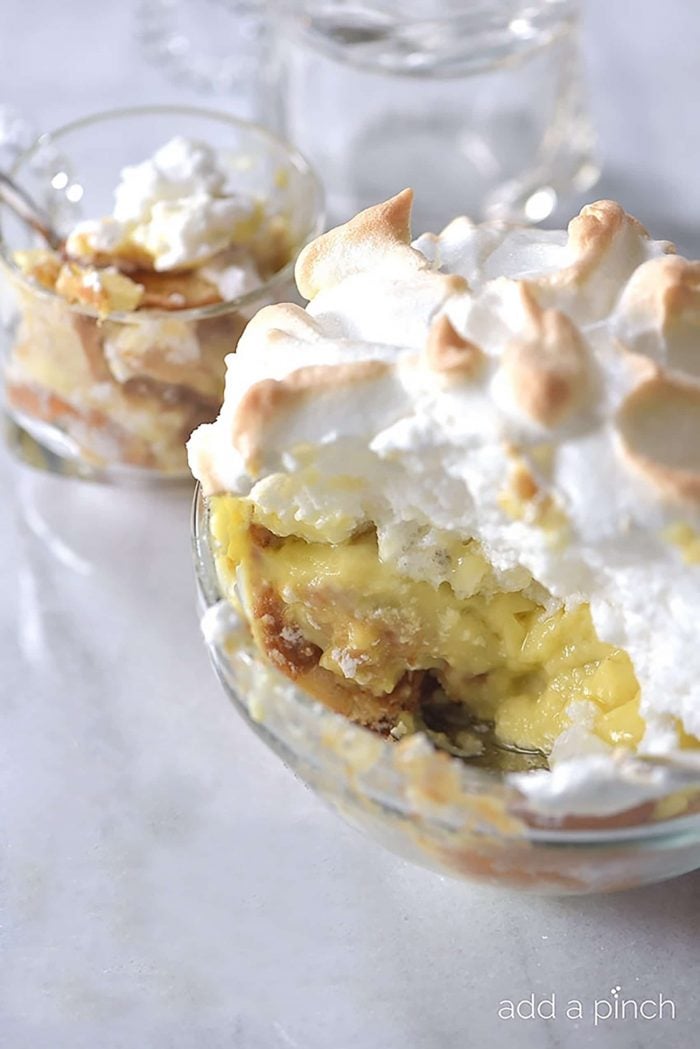 Southern Banana Pudding Recipe
This banana pudding recipe is about as much of a comfort food in the South as it is a dessert. One that everyone always looks forward to digging into to get the perfect ratio of vanilla wafers, pudding, and bananas.
Grandmother always made hers with a towering meringue on top of the pudding that was light as air and the perfect combination with the rich pudding. She would ask my sister and me to help make her recipe for dessert so many times when we were young girls. It was a request I don't remember ever tiring of hearing. She would ask one of us to carefully line the glass bowl with the vanilla wafers while the other sliced the bananas. We each had an important job and the pudding just wouldn't work without both of us completing our tasks with care.
Or at least she always made us believe it wouldn't.
While we were consumed with our duties, Grandmother was busily cooking the pudding on her stovetop. She loved to chat as she cooked, asking us about our day, telling us about when she would help her mother cook, or telling us about a bird she saw when she went to the garden earlier. Her voice was always as sweet and velvety as the pudding she was stirring.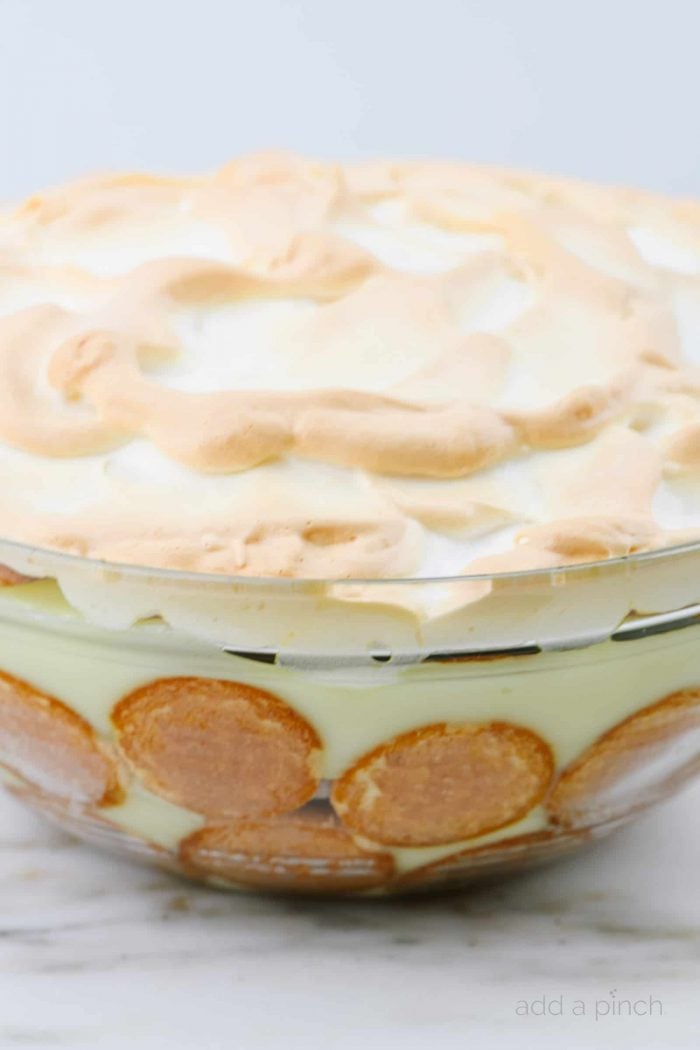 Once we had our vanilla wafers and banana slices layered just as she instructed, she would ask us to step back as she poured the hot pudding over them. Within minutes following, she would have her egg whites beaten to a perfect salute and would be carefully spreading her meringue on top of the pudding. Into the oven it would go for my sister and me to run and stare through the glass door in the oven as the meringue magically browned.
That night for supper, we were anxious for everyone to taste "our" banana pudding because we knew it tasted just as good as Grandmother's.
And in the morning, we always knew she would have her banana bread waiting on us, too! 🙂
Before we dig into making her iconic recipe, let's cover a few basics.
What is Banana Pudding?
Banana pudding is a sweet Southern dessert made with layers of vanilla custard, cookies, and slices of fresh bananas. The dish is then topped with whipped cream or, as in my Grandmother's traditional Southern Banana Pudding recipe, meringue.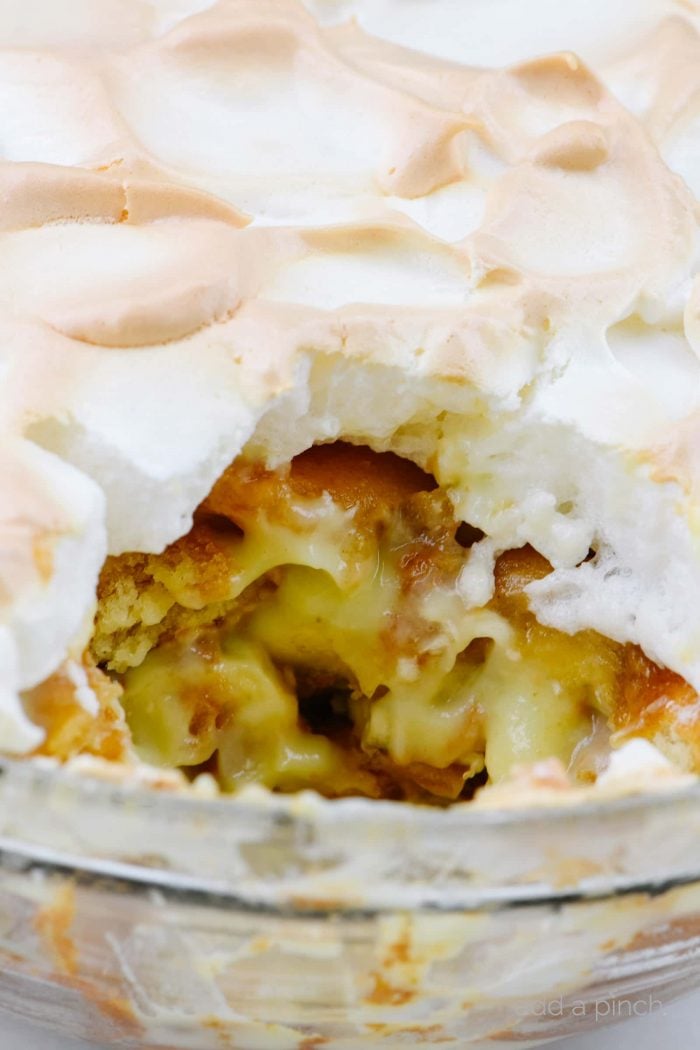 How to Make the Best Banana Pudding Recipe
Ready in 30 minutes, you will definitely love this classic, heirloom recipe!
Preheat the oven to 325º F.
How to Make the Custard for the Pudding:
Combine your flour, sugar, and salt in a large, heavy-bottomed saucepan.
Lightly beat your egg yolks and whisk to combine with milk in a large bowl or even use a large liquid measuring cup, such as a 4-cup.
Whisk your egg yolk mixture into your dry ingredients in the saucepan set over medium to low heat. Stir constantly until the custard is thickened, remove from the heat and stir in your vanilla extract.
How to Assemble Banana Pudding:
Arrange vanilla wafers on the bottom of a 2-quart dish, such as an oven-safe glass bowl or dish.
Slice bananas and place on top of the vanilla wafer layer.
Pour 1/3 of the pudding over the wafers and bananas.
Repeat layering process, ending with a layer of wafers.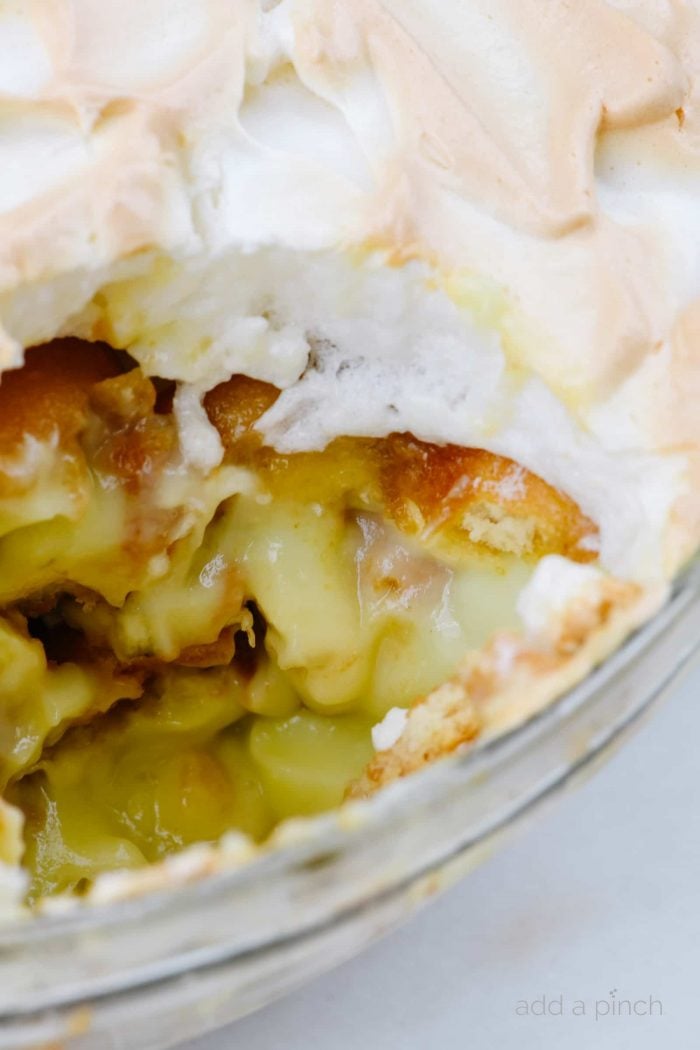 How to Make the Meringue Topping:
How Long Will Banana Pudding Keep?
Store your banana pudding wrapped with plastic wrap in the refrigerator for up to 3 days.
Here is her Southern Banana Pudding recipe. I know you'll love it!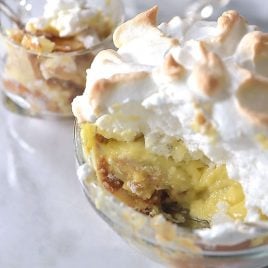 Southern Banana Pudding Recipe
Southern Banana Pudding Recipe – An heirloom family recipe for banana pudding that is a classic, Southern dessert. Creamy, traditional banana pudding topped with airy meringue.
Print Recipe
4

tablespoons

all-purpose flour

1 1/2

cups

sugar

pinch

salt

3

large

eggs

separated (you'll need whites later for meringue)

3

cups

milk

1

teaspoon

vanilla extract

1

box vanilla wafers

approximately 45 wafers

5-6

bananas

3

egg whites

reserved from above

1/8

teaspoon

cream of tartar

1/4

cup

sugar

1

teaspoon

vanilla extract
Preheat oven to 325º F.

Combine flour, sugar and salt in a large, heavy saucepan.

Lightly beat egg yolks and combine with milk in a large bowl or measuring cup. Pour the egg and milk mixture into dry ingredients in heavy saucepan. Cook over low to medium heat, stirring constantly, until ingredients are thickened and smooth. Remove saucepan from heat and stir in vanilla.

To layer your banana pudding, begin by placing vanilla wafers on the bottom of a 2 quart oven-safe glass bowl or baking dish.

Slice bananas and place on top of wafers.

Pour one-third of custard over wafers and bananas.

Repeat layering process two more times until all wafers, bananas, and custard have been used, ending with a final layer of wafers. 
For the Meringue:
Whip egg whites with an electric mixer set at high speed.

Allow egg whites to foam, add cream of tartar and then gradually add sugar one tablespoon at a time.

Continue whipping until sugar is well-dissolved.

Add vanilla once stiff peaks have formed and whip until well-combined.

Spread meringue over banana pudding, making sure to spread to the edges of the dish.

Bake for about 25 minutes until the meringue is lightly browned.
Calories: 343kcal | Carbohydrates: 68g | Protein: 7g | Fat: 5g | Saturated Fat: 2g | Cholesterol: 78mg | Sodium: 89mg | Potassium: 436mg | Fiber: 2g | Sugar: 57g | Vitamin A: 295IU | Vitamin C: 6.4mg | Calcium: 118mg | Iron: 0.7mg
Enjoy!
Robyn xo

From the Add a Pinch recipe archives, originally published 2011.