Refreshing homemade Fresh Lemonade recipe made with fresh lemons! It's a classic delicious drink perfect for any occasion! Includes how to make lemonade concentrate!
Homemade lemonade is one of the most refreshing and easiest drinks to make and this recipe gives you that perfect sweet, yet tart drink we all love! Perfect for serving throughout the year, but it is especially refreshing during warmer months. We love it with everything from BBQ to hamburgers and grilled chicken. A definite favorite!
There are just a few simple tricks to make sure that your lemonade is absolutely perfect every time!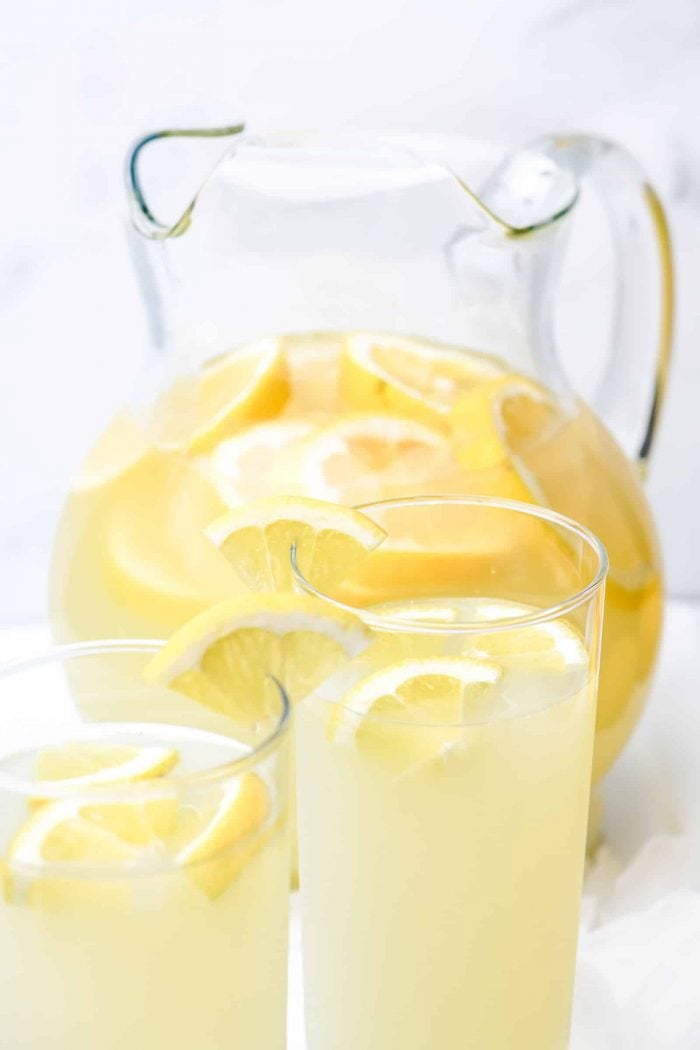 Fresh Lemonade Recipe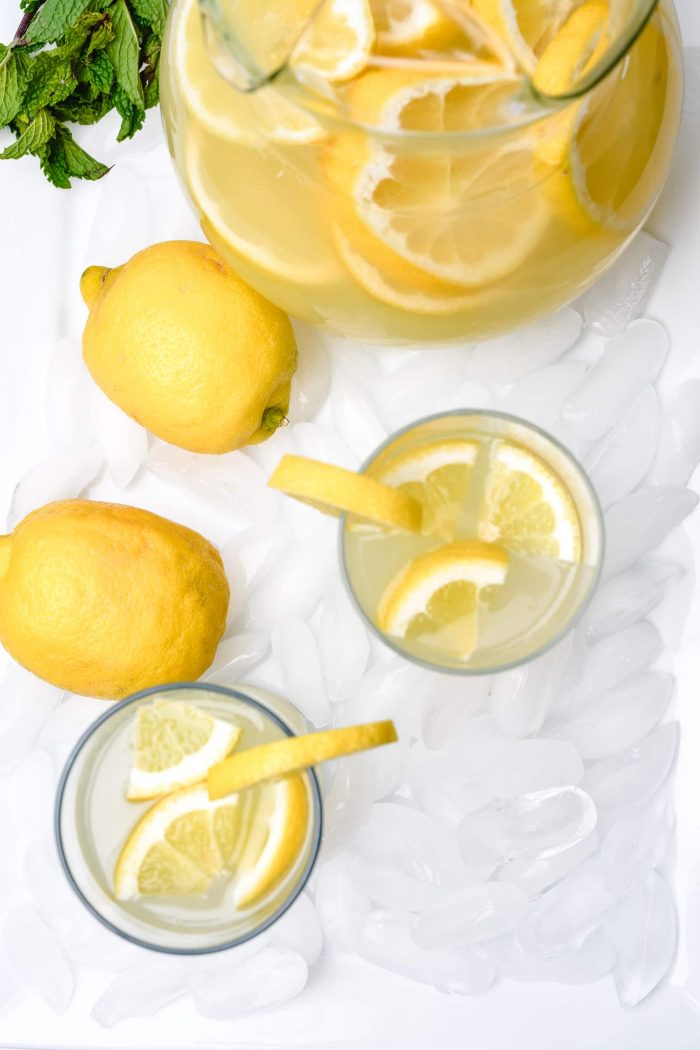 How to Make the Best Fresh Homemade Lemonade
This homemade lemonade recipe is so simple to make and have on hand. It only takes a few minutes to have a gallon of it made and ready for serving.
It is perfect for serving anytime, but especially delicious for picnics, parties, and get togethers. And thankfully, it couldn't get much easier and you know exactly what is in it! No powdery mixes used! 🙂
Homemade Lemonade Ingredients
sugar
hot water
fresh lemon juice
cold water
lemon zest
lemon slices
Instructions
Add sugar. Start by adding your sugar to a large, gallon-size pitcher. If you do not have a gallon-size pitcher, you can easily cut this recipe in half or even double it for larger quantities.
Pour in the hot water and stir to dissolve the sugar. This basically creates a simple syrup and prevents your lemonade from being grainy or with sugar that sinks to the bottom of the pitcher.
Stir in your fresh lemon juice and cold water. I also like to add fresh lemon zest to my lemonade recipe, it increases the lemon flavor even more!
Now you are ready to serve it! I love to serve with lemon slices and over ice.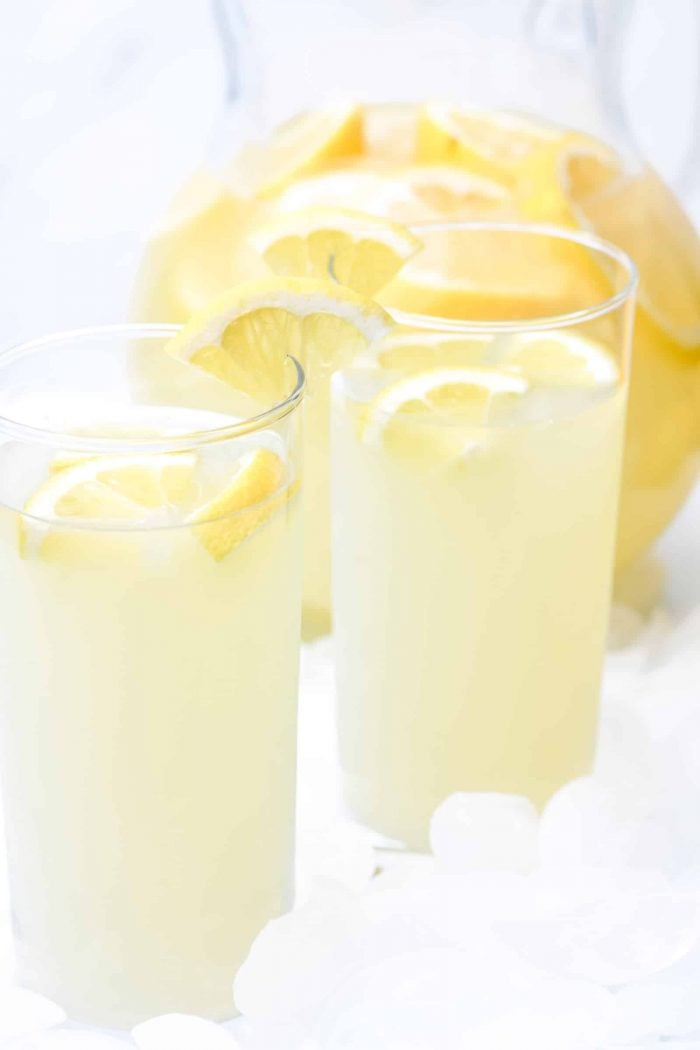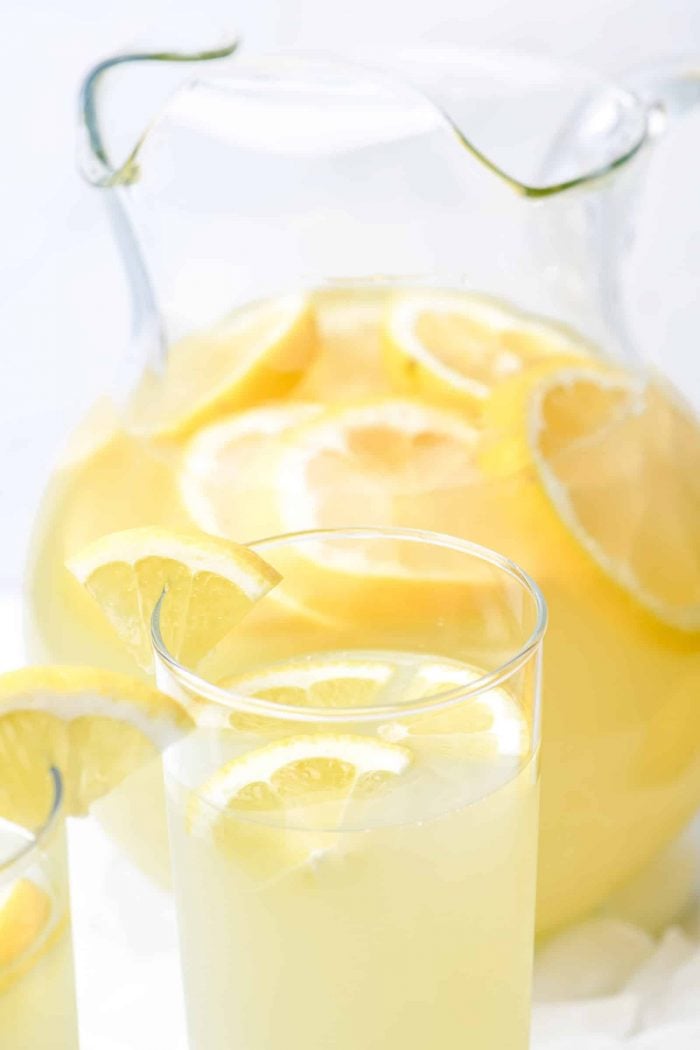 How Long Does Lemonade Keep in the Refrigerator?
For best results, keep your lemonade refrigerated between servings. Not only does this make it more refreshing on a hot day, it keeps it fresher longer.
I've found that my lemonade stays fresh for up to 5 days in the refrigerator. If making in advance for a party, consider using my concentrate recipe or simply wait about adding the fresh lemon slices to the pitcher until right before serving.
Can I Make Sugar-Free Lemonade?
Yes! I love to make this recipe sugar-free! I use an equal amount of Splenda in place of the sugar for making sugar-free lemonade. You can use your favorite sugar substitute in place of the Splenda. I've just found for our tastes, Splenda works best here.
How to Make Lemonade Concentrate
Similar to my sweet tea concentrate, I love to make this as a concentrate as well! The concentrate requires less room in my refrigerator, is easier to transport when when traveling, and is great to make ahead and keep on hand!
To make lemonade concentrate, simply proceed through the recipe without adding the cold water and lemon slices.
Mix sugar and water. Add your sugar to a large pitcher and pour the hot water over over the sugar and stir to combine.
Add lemon juice and lemon zest. Stir well.
Pour into an airtight bottle.
Store in the refrigerator for up to a week.
How to Serve from Concentrate
To serve, simply add equal parts lemonade concentrate and cold water to a glass (for single servings) or a pitcher (for larger service).
Other Favorite Drinks
Sweet Tea
Strawberry Lemonade
Limeade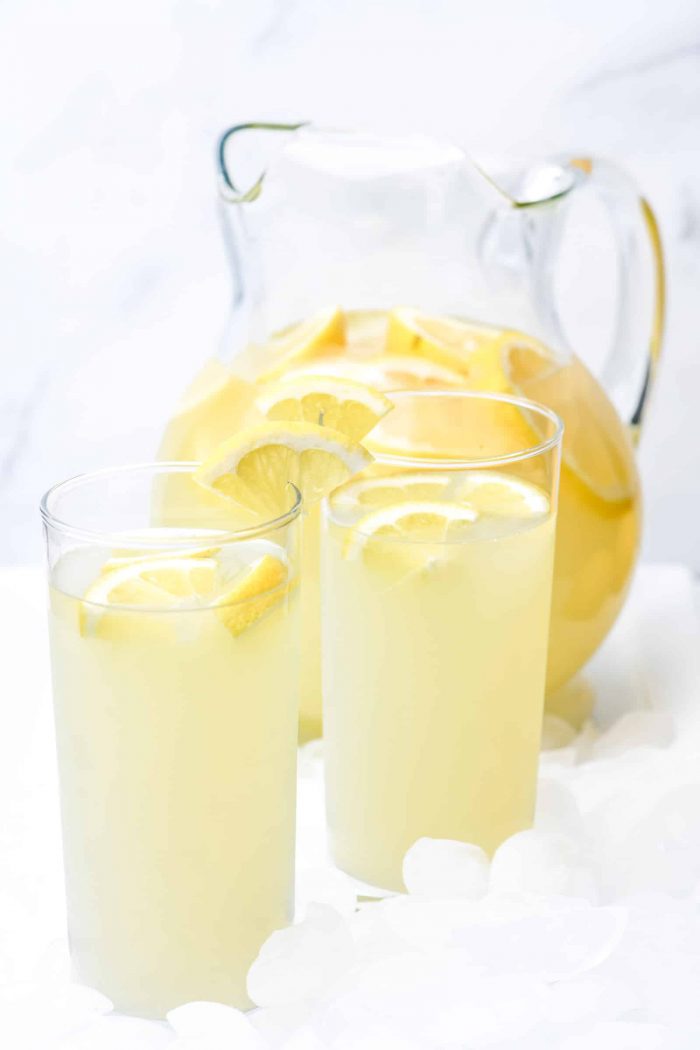 Here's my Lemonade Recipe. I hope you enjoy it!
Enjoy!
Robyn xo